Mental health emerges as a top concern for Canadian employers: report
Experts believe Canadians are living with low-grade trauma from the events of the past two years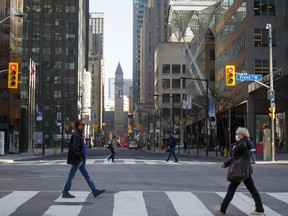 Morning commuters cross Yonge Street at Bay Street in the financial district of Toronto. Photo by Cole Burston/Bloomberg files
A new report shows that mental health has emerged as a top concern of Canadian employers, ranking alongside more obvious threats such as labour shortages and COVID-19.
Prior to the pandemic, Canada businesses tended to express worry about more tangible risks: an office fire that could destroy essential documents; a flood that could short-circuit expensive equipment.
But now, the biggest threats facing Canadian businesses are invisible, and trickier to manage, according to insurance company Aviva Canada's annual Risk Insights Report, which draws on interviews with 1,500 business leaders to rank the things that keep Canadian business leaders awake at night.
COVID-19 ranked as the biggest threat; no surprise, given it caused an epic global recession in 2020 and continues to torment businesses around the world. The second item on the list, cyber-security, also was on the radar of executives a few years ago, even if relatively few were unsure about how to guard against malicious hackers. Labour shortages and supply disruptions – fourth and fifth, respectively – have been widely reported as the driving forces behind a troubling burst of inflation for more than a year.
Article content
Essential workers continued to work with increased restrictions during the pandemic, while other employees began working from home, isolating them from co-workers and increasing the risk of loneliness and depression. This initial transition, as well as the return to work, has created a great deal of anxiety. Overall, 45 per cent of businesses saw an impact on employee wellbeing and mental health, according to the report.
While some staff enjoy working from home, there are definite "downsides to the pressures of working from home and the stress of being 'always-on,'" the report said.
Not all business sectors are equally concerned about mental health. Businesses that are dependent on face-to-face client interactions, such as real-estate, retail, and the service industry are more inclined to fret for employees' wellbeing.