I refined my daily workflow with these essential Microsoft Office apps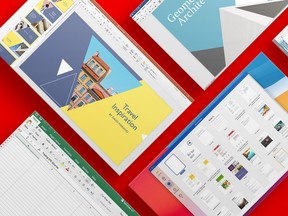 Reviews and recommendations are unbiased and products are independently selected. Postmedia may earn an affiliate commission from purchases made through links on this page.
Article content
This article was created by StackCommerce. Postmedia may earn an affiliate commission from purchases made through our links on this page.
Article content
Since it first appeared on the scene in 1983, Microsoft Word has grown from a second-choice word processor to a staple in professional industries across the world, and it's not alone. Apps like Excel, PowerPoint, and Outlook have become cornerstones of personal and professional computing, and it's not hard to see why over 1 billion people are using them. 
Article content
What can you do with Microsoft Office Professional?
This 2021 MS Office suite has eight programs: Word, Excel, PowerPoint, Outlook, Teams, OneNote, Publisher and Access. After some time using these for everything from work to managing my finances and creating invitations for my nephew's birthday party, it's clear why Office is so popular. 
I've found that Word is an excellent platform for a writer who needs everything available in one concise hub. The essential tools for formatting and style are readily available, and everything else is tucked away in well-organized drop-down menus. Plus, the auto-save feature has indeed preserved multiple hastily closed drafts. 
Article content
Every app in the suite demonstrates the same careful design you can find in Word. For example, I used Excel to organize my finances in anticipation of tax day. Finding the exact amounts I'd paid on quarterly tax estimates was as easy as uploading my bank statements, filtering and clicking the SUM function. And with Access, I saved my tax information so I can update it throughout the coming months and save some time in 2024. Waiting until the very last day to complete my taxes could be a viable option if I don't have to learn new personal accounting software. If I have the foresight to consult a CPA next year? I can share all my financial information over Teams. In the meantime, I can keep using it to share drafts with my editor and pictures of cats with friends. 
Article content
Perhaps unsurprisingly, I had been using email as a storage space of sorts for said cat pictures and drafts. Before I started using Outlook, my inbox overflowed with thousands of unread and disorganized emails. It was untenable and stressful to deal with. Outlook made it so much easier to organize my unwieldy inbox. All I had to do was make a few folders and drag and drop relevant emails into them. Of course, some folders got more use than others, which meant it was big news when I found out you can drag and drop multiple emails into a folder. And Outlook lets me pin important messages to the top of my inbox. So even if I start slacking in organizing everything into folders, I can keep the important stuff where it's immediately visible.
Article content
Then there's the slideshow software. I've used PowerPoint before to make presentations, but having it long-term let me get to know some of its other uses. For instance, I needed to organize and outline a long multi-chapter document, and PowerPoint made it easier than it would have been if I'd only been using Word. PowerPoint gave me a user-friendly interface to break things down and attach relevant images and research. 
And that research? Keeping track of it has been easier than ever. Before getting lifetime access to OneNote, my experience with it was limited. I knew it was a writing app, but that was about it. Since I started using it, I've come to rely on OneNote as a tool not just for sharing and organizing typed notes but also for taking a break from typing. OneNote lets you create audio and video notes. It's great for brainstorming ideas because I can just talk to my screen and listen to it later. While other apps let you do that, OneNote has an intuitive tagging system that makes it much easier to search for my audio notes later. I also appreciated that I could take notes more naturally using a stylus. Drawing an arrow from one part of a page to another is a lot easier than leaving a comment in Word or going through the effort of colour coding. 
Article content
Sometimes though, visual elements and digital doodles help me get my ideas together. I am not a designer, but I wanted to create a visual outline of a project I'm working on. So, instead of fumbling through formatting images and graphs in a word processor, I used Publisher. Like any of the apps in Microsoft Office, the key tools were available with minimal clicks or searching. In this case, all I needed was a template that let me include images and large blocks of text. I used a poster template and enjoyed how easy it was to make a high-quality document with virtually no design experience. If I ever need to refine my resume, I'd use Publisher instead and try out a few of the built-in templates or download an option or two from the many free ones available with a quick browser search.
Article content
What can you get from the 2021 Microsoft Office suite?
Cutting time and avoiding headaches is a value proposition that's hard to ignore. Each Microsoft Office app either anticipated the work I had to do or gave me the means to get the job done better than if I'd used another app. Organizing a full book manuscript was easy when I split the work between OneNote, Word, Publisher and PowerPoint. And I was able to power through a pile of stressful tasks with Excel, Access, Outlook and Teams. 
These apps have been streamlined and refined to present the most useful tools upfront, with an enormous menu of auxiliary functions just a dropdown menu away. Reacquaint yourself while lifetime access is on sale: for a limited time, Microsoft Office Professional 2021 for Windows or Mac is $54.99. 
It's also available on Amazon, but the price tag is much higher.
Prices subject to change.