More than a 'flash in the pan'? The TSX is on a roll for now
TSX rallied to all-time highs this week, surpassing 21,800 during Friday trading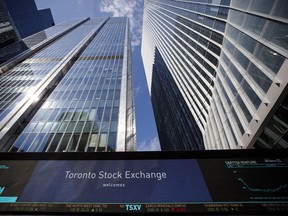 The Toronto Stock Exchange in the financial district of Toronto. Photo by Cole Burston/Bloomberg files
The S&P/TSX composite index is finally getting its time in the sun after more than a decade of underperformance, rallying to all-time highs this week, surpassing 21,800 during Friday trading.
The index had been climbing on soaring commodities, including oil, as well as on the backs of the financial and agricultural sectors, where stocks for heavyweights such as the Royal Bank of Canada, Enbridge Inc. and Canadian National Railway Co. have been on the rise.
The TSX is now up 2.7 per cent this year while the S&P 500 is down almost seven per cent and the Dow Jones is down five per cent.
Article content
"There's been this rotation to value … and it all really favours Canada," he said. "You're getting new investors that are rediscovering our markets and you're getting local investors for the first time in five years."
The rally has been accelerated by the conflict in Ukraine, but Newman believes it will be an enduring trend with more room to grow in energy stocks.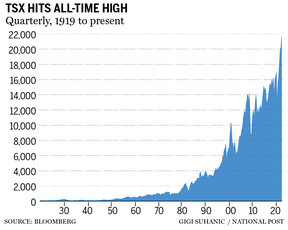 "There's a whole game change here, and a lot of institutional investors don't own Canada (stocks) … and they're all kind of going the wrong way at the wrong time," he said. "That traffic has got to come back … that will, I think, play out for a while, maybe for a couple of years."
Kim Shannon, founder and co-chief investment officer at Toronto-based investment firm Sionna Investment Managers Inc., agrees that the pendulum is swinging to value stocks from growth stocks.