Morgan Stanley says S&P 500 could drop another 10 per cent
The investment bank is 'doubling down' on its defensive trades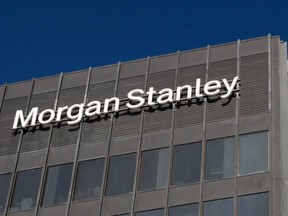 Ken Wolter/Shutterstock
This article was created by MoneyWise. Postmedia and MoneyWise may earn an affiliate commission through links on this page.
Given the significant market pullback so far in 2022, it's natural for many investors to start thinking about buying the dip.
But according to Morgan Stanley stock chief Mike Wilson, the selloff isn't quite done yet.
"This type of action is just not comforting," Wilson told CNBC earlier this week. "I don't think anybody is going home feeling like they've got this thing nailed even if they bought the lows."
Wilson points out that there's a collision looming between a tightening Federal Reserve and slowing growth, predicting another 10 per cent slide in the S&P 500 over the next three to four weeks.
Because of that, his team is "doubling down" on the defensive trade. Here are the five sectors Morgan Stanley is choosing to hide out in.
Article content
Investors can also get exposure to this fast-growing sector through exchange-traded funds like the Vanguard Information Technology ETF (VGT) and Technology Select Sector SPDR Fund (XLK).
Healthcare
Healthcare serves as a classic example of a defensive sector thanks to its lack of correlation with the ups and downs of the economy.
At the same time, the sector offers plenty of long-term growth potential due to favourable demographic tailwinds — particularly an aging population — and plenty of innovation.
Wilson also likes healthcare because "it's cheaper than tech."
Average investors might find it difficult to pick out specific healthcare stocks. But healthcare ETFs can provide both a diversified and profitable way to gain exposure to the space.