Morgan Stanley warns of 'acute downside risk' in markets over next few months
Now is a good time to 'run less risk than normal,' the investment bank says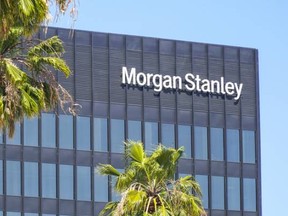 4kclips/Shutterstock
This article was created by MoneyWise. Postmedia and MoneyWise may earn an affiliate commission through links on this page.
The yield on the 10-year U.S. Treasury note has dipped to 1.847 per cent over the past month ⁠— a signal that the Federal Reserve, unlike the Bank of Canada, might hold back on interest rate increases.
But according to Morgan Stanley, the recent drop in Treasury yields is simply the result of investors fleeing to safe assets in light of the Russia-Ukraine crisis. In other words, the Wall Street behemoth doesn't believe the Fed is backing off from its hawkish stance at all.
And that doesn't bode well for the stock market.
"Downside risk remains most acute over the next six to eight weeks," Morgan analysts write in a note to investors. "We are firmly in the grasp of a bear market that is incomplete in both time and price."
Article content
In Q4, the beverage giant's net revenue grew 10 per cent year over year, driven by a 9 per cent increase in global unit case volume.
Last month, the company announced its 60th consecutive annual dividend increase, boosting its quarterly payout to 44 cents U.S. per share. The stock now yields an attractive 3 per cent.
On Feb. 8, Morgan Stanley analyst Dara Mohsenian raised his price target on Coca-Cola from US$65 to US$71 while maintaining an overweight rating. The price target implies a potential upside of 20 per cent from current levels.
Procter & Gamble (PG)
Procter & Gamble is another defensive stock that has the ability to deliver cash returns to investors in different economic environments.
Last April, P&G's board of directors announced a 10 per cent increase to its quarterly payout, marking the company's 65th consecutive annual dividend hike. The stock currently offers an annual dividend yield of 2.3 per cent.