Oil prices are plunging on word that America is about to flood market with 180 million barrels of crude
The release, expected to be announced today, would be the biggest in Strategic Petroleum Reserve's history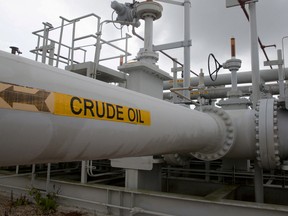 News reports say the United States is considering a 180 million barrel release from its Strategic Petroleum Reserve, the largest in the near 50-year history of the SPR. Photo by Reuters
LONDON — Oil prices plunged on Thursday on news that the United States was considering a 180 million barrel release from its Strategic Petroleum Reserve, the largest in the near 50-year history of the SPR.
Brent crude futures for May fell US$6.95, or 6.13 per cent, to US$106.50 a barrel by 1057 GMT. The May contract expires on Thursday and the most actively traded June futures were down US$6.66 at US$104.78, after earlier falling by US$7 a barrel.
U.S. West Texas Intermediate futures for May delivery fell US$7.28, or 6.75 per cent, to US$100.54 a barrel, after touching a low of US$100.16.
The record SPR oil release is the equivalent to two days of global demand and would hit the market over several months, four U.S. sources said on Wednesday, as the White House tries to lower fuel prices.
"Desperate times, clearly call for desperate measures and clearly the Biden administration believes the spike in oil prices warrants this move to eat into the country's emergency supplies," said Susannah Streeter, senior investment and markets analyst at Hargreaves Lansdown.