'One hundred and 12 hockey rinks!' Inside the deal that could launch Canada into the auto revolution
Episode 144 of Down to Business podcast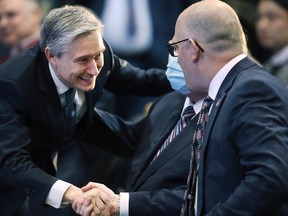 Federal minister of industry François-Philippe Champagne, left, shakes hands with Windsor Mayor Drew Dilkens at a press conference to announce a $5-billion investment to build an EV battery plant in the city. Photo by Dan Janisse/Postmedia
For months, politicians across Canada have been trying to convince an automaker to open a battery cell manufacturing plant and last week, those efforts finally paid off.
The European automaker Stellantis struck a joint venture with South Korean battery company LG Energy Solution to build a $5 billion battery cell plant in Windsor, Ontario.
It is expected to be an enormous facility — the size of 112 hockey rinks, according to Mark Stewart, chief operating officer in North America for Stellantis.
This week, on Down to Business I delved into the auto sector's pivot to electric vehicles, one of the largest industrial transformations in history.
Guests include François-Philippe Champagne, federal minister of innovation, science and industry; Victor Fedeli, Ontario minister of economic development, job creation and trade; Drew Dilkins, Mayor of the city of Windsor; Stewart of Stellantis; and Joanna Kyriazis, a senior policy advisor at Clean Energy Canada, a think tank affiliated with Simon Fraser University.