Ontario, Saskatchewan, New Brunswick and Alberta agree on plan to build small nuclear reactors
The first 300-megawatt plant to be built in Darlington, Ont., by 2028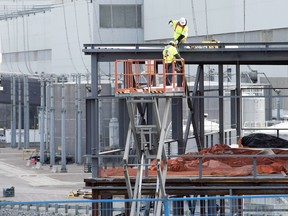 The first small modular reactor is scheduled to be completed by 2028 at Darlington, Ont. Photo by Frank Gunn /THE CANADIAN PRESS
REGINA — The governments of Ontario, Saskatchewan, New Brunswick and Alberta have put forward a nuclear plan that they say will transition them toward cleaner energy.
The provinces' energy ministers agreed today to a joint plan for small modular reactors, with the first 300-megawatt plant to be built in Darlington, Ont., by 2028.
Saskatchewan is to break ground on a site as early as the mid-2030s.
The plan aims to help meet domestic energy needs as province like Saskatchewan and Alberta transition away from coal, curb greenhouse gas emissions and make Canada a global leader in clean technologies.
Ontario, Saskatchewan and New Brunswick have worked together to advance SMRs in Canada since 2019, with Alberta joining in April 2021.