Opinion: Let a thousand four-plexes bloom: How private property rights can fix Canada's housing crisis
Peter Shawn Taylor: It's time to recognize the damage done by restrictive zoning rules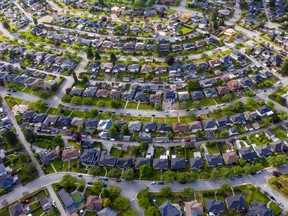 Residential homes in Burnaby, B.C. Photo by SeongJoon Cho/Bloomberg files
Municipal zoning laws in North America began as a way to indirectly enforce racial segregation. Starting in the 1920s, many U.S. cities realized they could legally keep blacks and ethnic minorities out of white areas by setting rules about the size, type and hence cost of housing. While the history of zoning in Canada isn't burdened with the same racist backstory, it has had a similarly profound and problematic effect. Even today, huge sections of most Canadian cities are set aside exclusively for single-family homes — a constraint that limits the diversity of our housing sector and its ability to respond to changes in demand.
With Canada in the midst of a massive housing supply crisis, it's time to recognize the damage done by restrictive zoning rules. If our goal is to encourage as much new housing as possible, we need to put the property rights of homeowners — rather than the whims of municipal politicians — at the centre of Canada's housing supply equation.
In response to widespread outcry over rapidly escalating housing costs, last year Ontario established the Ontario Housing Affordability Task Force. Its final report, released last month, sets for the province the wildly ambitious goal of adding 1.5 million new homes by 2032.
How does a province that's averaged 70,000 new homes annually over the past five years more than double that output every year for the next decade? By tackling the biggest barrier to building more homes — municipal governments' role as gatekeepers to new housing supply. "Too much land is tied up by outdated rules," the task force report observes.
Article content
"As of right" means anyone who owns a single-detached house anywhere in the province would be instantly free of nearly all existing zoning rules. Want to install a separate basement suite or put a granny flat in your backyard? Go ahead, it's your call. Owners would also be able to split their house into a duplex. Or tear it down and put up something bigger. Up to four units in total. Up to four storeys high. All without any municipal bureaucrat or city council saying you can't.
Relaxing zoning rules would also sideline busybody community groups concerned about the "character of their neighbourhood." Areas would evolve on a lot-by-lot basis based on the decisions of each individual owner. Over time, this would result in a wide and welcome variety of housing options, densities and heights, as duplexes, triplexes and fourplexes proliferated across once-monotonous neighbourhoods.