Optimize your emails, optimize your business on Windows
Operating with an effective and affordable email platform can make all the difference for professionals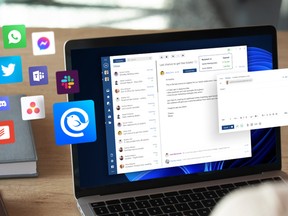 Photo by mailbird
This article was created by StackCommerce. Postmedia may earn an affiliate commission from purchases made through our links on this page.
While the number of avenues through which we communicate professionally and socially seems to grow perpetually, email has remained a constant through the years. On top of being a common and arguably the most formal way to message someone through the internet, it is also historically one of the most dependable for businesses executing marketing and sales campaigns.
Article content
There are a lot of philosophies for approaching digital marketing and email campaigns as a whole. But aside from strategy, there's also functionality. For example, you can pay a team of entry-level employees to copy and paste the same message to hundreds or thousands of accounts, but that might not be the most efficient use of your money or their time. For saving time and executing large-scale campaigns in effective, time-saving ways, secure yourself a platform built for higher-level emailing.
For a limited time, you can get a lifetime subscription to a Mailbird Personal Plan for $50 or a Business Plan for $88. Featured on BBC, PCWorld, and Product Hunt, among other leading outlets, Mailbird offers users a clean and easy-to-use email management system for Windows 7 and newer. You can streamline your team's communications with customizable layouts, app integrations, and unified inboxes. In addition, Mailbird supports 17 different languages, provides numerous helpful shortcuts, and offers 24/7 free email support.
Prices subject to change.