Original photography is an increasingly valuable skill
Visual content is becoming currency, and businesses are willing to bargain for it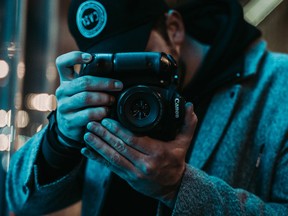 Photo by StackCommerce
This article was created by StackCommerce. Postmedia may earn an affiliate commission from purchases made through our links on this page.
Photography has gone from a hobby for the artsy and profession for journalists into one of the most shared and coveted visual media out there. From Instagram to Facebook and websites — every modern business can benefit in one way or another from a steady stream of high-quality, original photography that's relevant and complementary to their brand. Sourcing such imagery from a stock site isn't so easy.
Article content
Granted, no one can just buy a camera, walk out on the street, and take a photograph worthy of being bought by a business, let alone be capable of generating clicks online. While art takes time and creative sensibility to develop, there are also elements of it that can be taught and learned when curated by experienced and proven professionals.
Photo School: Learn Photography & Photoshop from Hollywood's Masters is a great resource for anyone who wants to take advantage of the market for original photography. These courses by Photo School are led by Hollywood photographers who have taken photos of high-profile celebrities including Rihanna, LeBron James, and Clint Eastwood. It includes lessons on how to use a DSLR camera properly, but it also delves into the fundamentals of lighting, setup and post-processing.
The 13-course bundle is $126.99 right now and teaches prospective photographers the optimal way to capture their indoors and out.
Prices subject to change.