Posthaste: Canadians are richer than ever before — and they've never had so much debt
Blame rising home prices for the conundrum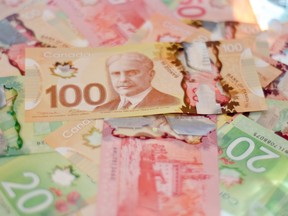 Canadians now owe $1.86 for every dollar of disposable income. Photo by Getty Images/iStockphoto
Two years after the pandemic started, Canadians have never been so rich. They've also never been in so much debt.
Households collectively racked up their highest levels of net wealth during the fourth quarter of 2021, hitting a record $15.9 trillion, according to a new report from RBC Economics. That's $3.6 trillion above levels in the fourth quarter of 2019, a development report author Rannella Billy-Ochieng calls "stunning."
Much of that jump in wealth is thanks to rising home prices. The escalating value of real estate made up 57 per cent of Canadians' wealth gains over the past two years. And RBC said it expects that momentum to continue into 2022. So far this year, home prices have relentlessly climbed higher. The latest data from the Canadian Real Estate Association released on Tuesday show prices surged 20.6 per cent in February from the same month in 2021. That now puts the average price of a home at $816,720.
Article content
Many households are well positioned to weather higher rates because they socked away record savings during the height of pandemic lockdowns, when there were fewer opportunities to spend and ample government benefits were pouring in. Those overflowing piggy banks will act as a buffer against rising inflation and interest rates, RBC said.
The story is different for lower-income Canadians. They saved less during the past two years and relied more on government aid. With supports drying up, they've started adding more to their credit-card balances. They are also more likely to struggle with the higher costs of food and fuel, which have only been rising amid Russia's invasion of Ukraine.
"The economic impacts of the pandemic continue to hit some harder than others," Billy-Ochieng said in the report.