Posthaste: Expect a hot, hot, hot real estate season in cottage country
Royal LePage survey predicts double-digit price increases for recreational homes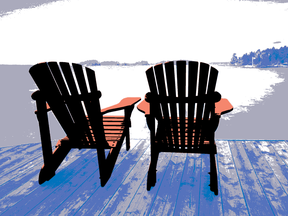 A survey of real estate brokers by Royal LePage predicts another fevered buying seasons for recreational properties across the country. Photo by Financial Post photo illustration
Good Morning!
Forecasts are for another hot summer in the market for getaway homes.
Royal LePage, the real estate brokerage firm, predicts the national aggregate price for a home away for home will rise 13 per cent in 2022 from last year, to $647,710 for a single family unit, as demand continues to outstrip supply.
"The factors challenging Canada's residential real estate market — chronic low supply and growing demand — are amplified in the recreational property segment," said Phil Soper, president and CEO of Royal LePage.
Article content
If 2022 is expected to be hot, 2021 was a scorcher.
In that selling season, the aggregate price nationally for a single-family recreational property rose 26.6 per cent from 2020 to $567,000; a single-family waterfront property leapt 21.5 per cent to $976,000; a condominium, 15.4 per cent to $374,000.
In Ontario in 2021, the family recreational property market rose 34.6 per cent, the highest year-over-year aggregate price increase, according to Royal LePage.
Here is how the Royal LePage survey forecasts prices to break down by region:
Atlantic Canada
Prices, on an aggregate basis, are expected to increase 15 per cent to $272,550 for a single family home compared with a 2021 year-over-year increase of 24.1 per cent. In 2021, the price of coveted family waterfront properties rose 39.3 per cent to $333,000.