Posthaste: Frothy housing markets biggest global risk this hiking cycle — and Canada tops the list
'EM crises are old news,' say economists, housing markets are now the weakest link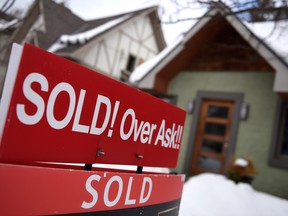 Capital expects a modest rise in borrowing costs to only affect markets where valuations are the most extreme such as Canada. Photo by Justin Tang /THE CANADIAN PRESS
Was this newsletter forwarded to you? Sign up here to get it delivered to your inbox.
_____________________________________________________________
THE CANADIAN WAY Canada is great at growing things; just, at the present, not so good at processing them. Our country grows more cash crops than almost anywhere in the world, and yet much of it is exported as raw commodities, rather than as processed goods. Because of that Alberta oats are shipped to the U.S. or Europe, processed into a protein powder and then shipped back, before Toronto company Oat Canada can make oat milk. Find out how Oat Canada and its new partner French food giant Roquette Frères SA hope to change that. Read on Photo by Postmedia
Article content
____________________________________________________
From being first minted to being acquired by big-name celebrities like Patrick Mahomes and Snoop Dogg in recent years — NFTs (non-fungible tokens) have become both a buzzword and an investing question mark.
There is certainly money to be made. $22 billion were spent on NFTs in 2021, which is a gigantic leap from the $100 million spent on them the year prior. Like with crypto, the spending will continue to grow, but the population of people who invest and turn profits is likely to narrow down to the experts.
For a comprehensive introduction, our content partner StackCommerce has a NFT masterclass for the artist and entrepreneur.
_____________________________________