Posthaste: Most Canadian office workers just want to stay home
43% of workers are likely to look for a new job if asked to return to the office full-time: survey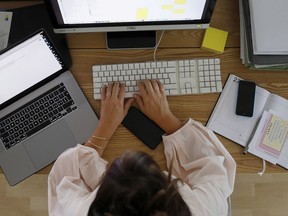 The ability to work remotely is one of the top factors Canadian office workers look for in a new job. Photo by Stefan Wermuth/Bloomberg files
Good morning!
Most Canadian office workers hope remote work is here to stay, a new survey by Amazon Business found.
The findings reveal that the ability to work remotely and flexible work hours are now more important to employees than workplace culture, opportunities for growth and in-office perks.
"It's clear that the role that the physical office plays in the day-to-day work and satisfaction of employees has changed dramatically during the pandemic," said Nick Georgijev, Amazon Business Canada's country manager, in a press release. "We're not going back to how things were before, and businesses need to adjust to the many operational realities that come with that."
Article content
Nearly three-in-five (57 per cent) said they would prefer to split their time between in-office and remote equally (27 per cent) or work mostly remotely (30 per cent).
Convincing workers to change their minds could prove costly for employers. The top incentives to entice workers to return to the office full-time are salary increases, flexible work hours, more vacation, and better benefits, the survey found.
"Employers need to reconsider everything about their physical working spaces to meet the changing demands of their current and future workforce," said Georgijev. "That includes everything from their real estate footprint to procurement to technology and supplies."
Most big tech companies are starting to bring workers back to the office with varying degrees of flexibility.