Posthaste: Signals flashing that Canada's housing market could be close to a turning point
Sellers may finally be returning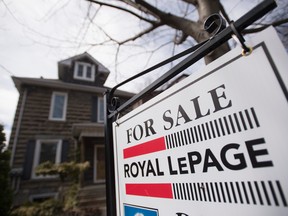 More sellers entered the housing market in February, says RBC. Photo by National Post
Was this newsletter forwarded to you? Sign up here to get it delivered to your inbox.
_____________________________________________________________
ROYAL VISIT Queen Elizabeth II shakes hands with Canadian Prime Minister Justin Trudeau as they meet for an audience at Windsor Castle on Monday. During a meeting Monday, Trudeau and the leaders of the U.K. and the Netherlands agreed that Russia is no longer a reliable supplier of oil and gas, but Europe is not yet prepared to cut off the taps. Photo by Steve Parsons/Pool/AFP via Getty Images
Article content
____________________________________________________
It's not easy to be bullish these days.
The S&P 500 is down 9.8 per cent year to date. The Nasdaq has tumbled 14 per cent. Planned interest rate hikes continue to weigh on stocks. Russia's invasion of Ukraine isn't making investor sentiment any brighter.
But none of that means you have to stand on the sidelines.
If you're looking for a sector that could make a strong comeback, a clue lies in the latest report from the U.S. Commerce Department. Find out more from our content partner MoneyWise.
_____________________________________
Today's Posthaste was written by  Pamela Heaven (@pamheaven), with files from The Canadian Press, Thomson Reuters and Bloomberg.
Have a story idea, pitch, embargoed report, or a suggestion for this newsletter? Email us at [email protected], or hit reply to send us a note.
Listen to Down to Business for in-depth discussions and insights into the latest in Canadian business, available wherever you get your podcasts. Check out the latest episode below: