Posthaste: What $200 oil could do to Canada and the world economy — and it's not pretty
Not even our energy producing nation would get a boost from prices this high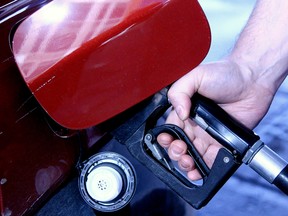 Gas prices have jumped more than 10% in the past week on worries about supply because of the Russian, Ukraine crisis. Photo by Brendan Miller/Postmedia
Was this newsletter forwarded to you? Sign up here to get it delivered to your inbox.
_____________________________________________________________
PENALTY BOX Since Russia's invasion of Ukraine, companies are learning the hard way that there is no escaping politics now, not even at the ice rink, writes the Financial Post's Marisa Coulton. Canada Cycle & Motor Co. Ltd., known as CCM Hockey, found that out when it suspended the use of Russian players from its global marketing and advertising in reaction to the invasion, most notably Washington Capitals captain Alexander Ovechkin, seen above. CCM's move was part of a broad backlash by the hockey establishment against Russia, but its decision to drop all Russian players, not just Ovechkin, has raised questions about its business ethics and strategy, writes Coulton. Read on. Photo by Dean Pilling/Postmedia
Article content
The White House is under growing pressure to ban Russian oil imports after publicly rebuffing the idea earlier put forward by senators, Bloomberg reports.
Senators Joe Manchin, a West Virginia Democrat, and Lisa Murkowski, an Alaska Republican, have introduced legislation that would block the flow of Russian oil and gas into the U.S., and House Speaker Nancy Pelosi has joined with Republicans in backing the idea.
Sources have told Bloomberg that the administration is talking with U.S. oil and gas industry on the impact such a move would have on American consumers and the global supply.
Their big concern is a ban might not actually hurt the Russian economy, which would just send its oil to other markets. A ban, especially if other countries followed suit, though could send soaring energy prices even higher to $150 or more, say analysts.
"Any restrictions on Russian flows would cause pain exclusively on the side of the buyer because the Russians can easily place their fuel oil in China or India," David Wech, chief economist at oil-data provider Vortexa Ltd, told Bloomberg. "That would put the U.S. in a difficult position because of the impact on gasoline prices."