Rogers' sale of Shaw wireless assets may come down to how much it can keep
Quebecor, an investor group led by Anthony Lacavera and Halifax-based telco Eastlink are among names being floated as potential suitors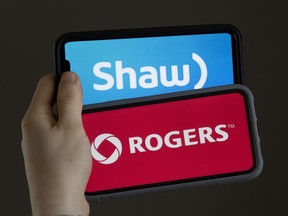 Industry minister François-Philippe Champagne has said the Rogers-Shaw marriage is unlikely to move ahead without the jettisoning of at least some of Shaw's wireless operations. Photo by Adrian Wyld/The Canadian Press
Rogers Communications Inc. may be moving toward a sale of Shaw Communications Inc.'s wireless assets to ensure regulatory approval for the $26-billion mega-merger of the former telecom rivals, but who ends up buying will be determined by factors including the price tag and whether Rogers is able to keep any of the wireless unit.
On Monday, media reports indicated Rogers has already set up a data room to entertain prospective buyers ahead of the merger's anticipated June closing. Quebecor Inc., an investor group led by Wind Mobile founder Anthony Lacavera and Halifax-based telco Eastlink are among the names being floated as potential suitors for the assets.
Lacavera, whose company Globalive founded Wind Mobile more than a decade ago, told Bloomberg News on Monday that he was interested in getting back into the business by buying the assets now owned by Shaw under the Freedom Mobile banner.
"Globalive maintains its interest in Freedom Mobile assets and have indicated (the) same publicly and privately to Rogers," Lacavera said.
The tie-up of Rogers and rival Shaw was never going to be easy because of their overlapping wireless operations. In a statement earlier this month, François-Philippe Champagne, the federal minister of innovation, science and industry confirmed what analysts had been expecting: the marriage is unlikely to move ahead without the jettisoning of at least some of Shaw's wireless operations, housed within Freedom Mobile, which grew out of the Wind operations purchased by Shaw in late 2015 for $1.6 billion.
Article content
In a note to clients earlier this month, RBC Capital Markets analyst Drew McReynolds said there were two scenarios in which he could see Quebecor walking away with the prize. In one, the Montreal-based telco would prevail in the first round, while in the other, the assets would be sold to a "Rogers remedy partner" — whatever transaction would get the Shaw deal done  — and could eventually be picked up by Quebecor.
The RBC analyst also laid out a scenario in which "a deep-pocketed financial player" picked up the Freedom Mobile assets.
Jerome Dubreuil, an analyst at Desjardins, told his clients in a note earlier this month that Quebecor is among the front-runners because the Montreal-based firm is in a position to make an "attractive" offer for the assets, has some spectrum holdings where Freedom operates, and would get synergies from the deal. Quebecor is also likely to be viewed by the federal government as a "credible operator" poised to continue competing in the market.