Saskatchewan budget outlines more taxes for gym-goers, sports fans, smokers
Budget projects a $463-million deficit for the 2022-23 fiscal year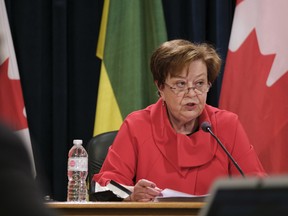 Saskatchewan Finance Minister Donna Harpauer speaks at a press conference at the Legislative Building in Regina. Photo by THE CANADIAN PRESS/Michael Bell files
REGINA — Working out or going to a professional football game could cost more this fall with proposed new taxes outlined in Saskatchewan's budget.
Starting in October, the province plans to add the six per cent provincial sales tax to admissions fees and entertainment, including Saskatchewan Roughriders CFL games, other sporting events, concerts, museums, rodeos and gyms.
Smokers also face increasing taxes starting Thursday. There will be another two cents per smoke for a total increase of 40 cents for a 20-pack. Taxes on loose tobacco will rise by eight cents per gram.
Property taxes are also to go up slightly.
These tax increases are expected to bring in more than $33 million annually to mainly address Saskatchewan's backlog of surgeries and bed capacity worsened by the COVID-19 pandemic.
Article content
The health-care sector is to get the biggest boost in funding. The government plans to spend $6.8 billion — almost 40 per cent of its total expenditures. Some of that will be on additional surgeries and to increase intensive care capacity, which at times was overwhelmed by waves of the pandemic.
The province also plans to create an agency to recruit doctors, nurses and other health-care professionals while providing money to retain them.
The budget boosts funding to mental health and addictions by $8 million.