Someone other than a Simons readies to lead Canada's oldest private firm through pandemic's aftermath
'I view it very much as a rebirth,' says CEO Bernard Leblanc. 'We're starting to dream again, which feels good'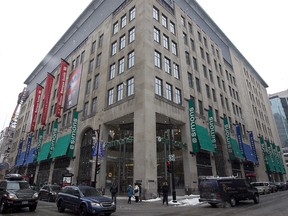 A La Maison Simons Inc. store in downtown Montreal. Photo by Pierre Obendrauf / THE GAZETTE files
Things are looking up at La Maison Simons Inc., the Quebec City-based retail chain known for its fashion-forward offerings.
Thanks to some pre-pandemic investments in e-commerce, Peter Simons, the chief executive, said the business that has been in his family for five generations was ready when retail went exclusively online in the spring of 2020. It wasn't always easy, but the company survived an event that forced weaker retailers into bankruptcy.
Simons found himself pondering the company's future. Even though he thinks the company is poised to do big things, he made a choice that might appear counterintuitive: He decided to step down. While multiple factors influenced the decision, his biggest consideration was the longevity of a company that is now it its 182nd year. Few companies last that long, and even fewer family enterprises make it to the fifth generation.
Article content
"The unique dynamics, structure and pivotal role of the family can help make these business better able to navigate and adapt to crises like a global pandemic, for example," said Mary Jo Fedy, an expert in privately held businesses and succession planning at KPMG, the global business consultancy. "They also tend to look beyond short-term profits and have a longer-term mindset."
It's not about me and my brother anymore. It's about being of service to the company

Peter Simons
Regardless, Simons decided he wasn't taking any more chances with his great great grandfather John Simons' legacy. "It was time to maybe put the ego aside and be proactive," he said. "It's not about me and my brother anymore. It's about being of service to the company … and looking 25 years ahead."
So, earlier this month, Simons promoted Bernard Leblanc, the company's chief operating officer, to CEO, and demoted himself to the role of chief merchant, overseeing buying and sourcing across the company. (Simons and his brother, Richard, remain controlling shareholders.)