Terence Corcoran: Budget pacto rescues Liberals from crisis
The NDP will keep the Liberals in power through the next four budgets as the government faces looming fiscal bottlenecks and potholes guaranteed to disrupt its plans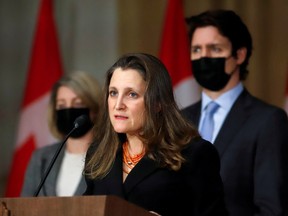 Finance Minister Chrystia Freeland faces a fiscal crisis that will require a significant pull-back that can only be politically achieved with the support of the NDP and a commitment from the left not to bring down the government. Photo by Patrick Doyle/Reuters files
The official title of the South American-style pacto for the preservation of Justin Trudeau's Liberal government in the face of a looming fiscal and budget crisis carries the usual upbeat political promise: "Delivering for Canadians Now." By forming a governance agreement with Jagmeet Singh's New Democratic Party, Trudeau claimed to be opening a way forward, although not quite as far forward as promised in the Liberal's 2021 election platform, titled "Forward. For Everyone."
The agreement sounds big, but it offers little. As politics, it might work to glue the Canadian liberal-left together for a year or so, but not much more as the agreement plays out in the new radically changed global economic environment.
The headline-grabbers — dental care, pharmacare, affordable housing — are squeakers dragged out over more than three years to 2025. The agreement took a limp stab at "tackling" the climate issue, promising only to "advance" and "move forward" on the net zero 2050 targets and to develop "a plan" to phase out public finance of the fossil fuel sector. Never mind that claims about such subsidies are mostly a product of green activist data manipulation. There was also no mention of the billions to be given to fossil fuel companies to eliminate and bury carbon emissions — that kind of subsidy is apparently acceptable.
Article content
In other words, the NDP will keep the Liberals in power through the next four budgets as the government faces the looming fiscal bottlenecks and potholes that are guaranteed to disrupt its plans for a major expansion of government. It is no coincidence that the Trudeau-Singh pacto was reached just a week or so before the Liberals produce their 2022 budget, a document that will almost certainly outline a tighter (for Liberals) fiscal path forward with little room for the massive expansion of government spending the Liberals and the NDP would prefer.
Finance Minister Chrystia Freeland faces a fiscal crisis that will require a significant pull-back that can only be politically achieved with the support of the NDP and a commitment from the left not to bring down the government when, for example, oil prices, inflation and supply-chain issues hamper the economy and make it impossible to fulfill previous spending commitments.