The Great Resignation isn't over yet: Workers say they'll quit if they don't get the flexibility they want
Two years into the pandemic, people have a new perspective on what's most important — and work no longer takes top billing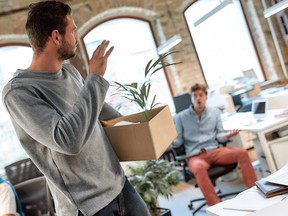 Fifty-two per cent of generation Z and millennials said they'd think about quitting this year. Photo by Getty Images
A labour force of empowered workers, all too willing to walk off the job if their needs aren't being met, could mean the Great Resignation is just getting started, new research from Microsoft Corp. suggests.
Two years into the pandemic, people have a new perspective on what's most important to them, and work no longer takes top billing, according to Microsoft's 2022 Work Trend Index. That means many people are now putting greater focus on their well-being. Globally, 53 per cent of people said they're prioritizing their physical and mental health, and 47 per cent said they're putting time spent with family and friends over their work lives.
All that soul searching has led some to quit their jobs. Last year 18 per cent, and 15 per cent in Canada, said they left for greener pastures, but a much larger number are considering leaving this year. Younger workers, especially, are feeling the call to look for something new: 52 per cent of generation Z and millennials, both globally and in Canada, said they'd think about quitting this year. Overall, 43 per cent, and 37 per cent in Canada, are open to other opportunities. Those numbers are up from last year, Microsoft said, signalling a continuation of what it calls the Great Reshuffle.
Article content
"It will be on leaders and managers and every organization to navigate through this change to find a better way of working for everyone," Stallbaumer said.
As it stands, the transition to hybrid work has been a rocky one. Workers say they don't have a clear idea of when it makes sense for them to be physically present in the office. Hybrid meetings are also a pain point for those working from home, who say they end up feeling left out. Still, managers aren't doing much to offer guidance: rules around things like how to make meetings work remain hard to find. In fact, only 20 per cent of managers in Canada, and 28 per cent globally, said they've created any kind of hybrid work policy.
All that uncertainty is leaving employees feeling unmoored, at a time when they aren't hesitating to look for other employment.