The perfect tool to launch your online teaching side hustle
Learning how to capitalize on remote learning is crucial for independent teachers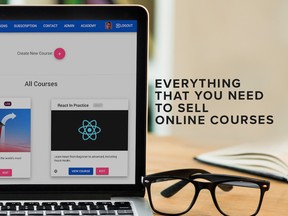 Photo by StackCommerce
This article was created by StackCommerce. Postmedia may earn an affiliate commission from purchases made through our links on this page.
For a long time, longer than anyone can reasonably calculate, teachers have been operating independently to teach students as scholarly tutors, extracurricular guides and special interest instructors. That's part of the reason why there are over 2,000 tutor jobs listed on LinkedIn in Canada. While this might seem like a strong prospect, the truth is that a lot of these applications get rushed with tons of applicants.
Article content
There are loads of tutoring and remote learning platforms out there, so it can be tough for a teacher just getting started to figure out where to go. Like with researching anything that could possibly boost your career, it's worth prioritizing a hosting platform that has had proven success and continues to take great care of its teachers.
With an OnlineCourseHost: Lifetime Subscription, you can engage in unlimited video hosting, collect payments online without any issues, and take advantage of the platform's advanced marketing features. Designed to help independent instructors sell their online courses and cut out middlemen, this hosting platform is a great place to get your teaching side hustle off the ground. That's why it's earned rave reviews like this one from Life and Self Improvement Coach Jaki Wasike-Sihanya, who wrote, "OnlineCourse Platform is helping me achieve my dream of selling online courses with more than just a platform. The community has been helpful to get me started and given me encouragement and useful practical advice."
For a limited time, the lifetime subscription Basic Plan is on sale for just $126.99 and the Pro Plan is only $252.99.
Prices subject to change.