Toronto home sales fall 41% as borrowing costs weigh
It's going to be a cool summer for real estate in Canada's biggest city, says TRREB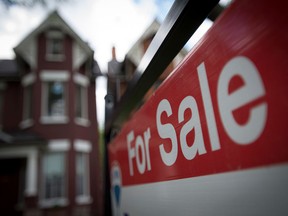 Toronto Regional Real Estate Board says the drop in sales suggest the current, cooler market conditions will persist. Photo by National Post
TORONTO — June sales of Toronto homes fell by just over 41 per cent compared with the same month last year as higher borrowing costs weighed on the market, the region's real estate board said Wednesday.
About 6,474 homes changed hands last month, down from 11,053 during the prior June, the Toronto Regional Real Estate Board said. June sales were also down compared to May.
While the board attributed some of the decrease between May and June to seasonal trends, it said the figure and year-over-year sales suggest the current, cooler market conditions will persist.
Article content
Crigger's prediction comes as several of the country's biggest housing markets — Vancouver, Toronto and Calgary — have eased in recent months.
Realtors and economists attribute the phenomenon to rising interest and mortgage rates as well as inflation, which recently hit 7.7 per cent, the highest it's been in almost 40 years. The Bank of Canada has teased further hikes could be on their way.
Those conditions mean less purchasing power for prospective buyers, but the market is still shifting in their favour because homes are sitting for sale longer and often not garnering the frantic bidding wars they would have months ago.
Though homes sold for less on average in June than those that changed hands in May, prices were still up from last year.