U.S. to release 1 million barrels of oil a day over next 6 months in historic drawdown of reserves
White House criticizes U.S. energy companies for not ramping up production faster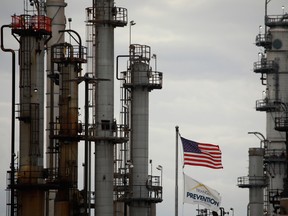 U.S. President Joe Biden's administration on Thursday announced a plan to release 1 million barrels of oil a day from the strategic petroleum reserve over the next six months, the White House said in a statement. Photo by Luke Sharrett/Bloomberg
U.S. will release roughly a million barrels of oil a day from its reserves for six months, a historic drawdown that underscores White House concern about rising gas prices and supply shortages following Russia's invasion of Ukraine.
President Joe Biden also will invoke Cold War powers to encourage domestic production of critical minerals for batteries for electric-vehicles and other uses, the White House said in a statement. Battery materials will join the list of items covered by the 1950 Defense Production Act.
The White House said that the release from the Strategic Petroleum Reserve was "unprecedented."
"This record release will provide a historic amount of supply to serve as bridge until the end of the year when domestic production ramps up," the White House statement added.
Biden will order as much as 180 million barrels released from U.S. reserves over the next several months. He'll speak about his plan at the White House at 1:30 p.m. in Washington.
Article content
But the releases won't be accompanied by greater production from OPEC+ nations, after the cartel said Thursday it'll stick to gradual increases. OPEC+, which includes Russia, ratified an existing plan to increase supply in May by 432,000 barrels a day in an online meeting, according to a statement.
The goal of Biden's plan is to create a bridge for U.S. supply until the fall, when domestic production is anticipated to increase, the White House said. In its statement, the White House criticized U.S. energy companies for not ramping up production faster.
"There are oil companies that are doing the right thing and committing to ramp up production now," the White House said. "Still, too many companies aren't doing their part and are choosing to make extraordinary profits and without making additional investment to help with supply."