Ukraine says 'zero progress' in talks, pushes back at Putin: live updates
Check here for the latest news on how the conflict is affecting markets, businesses and the economy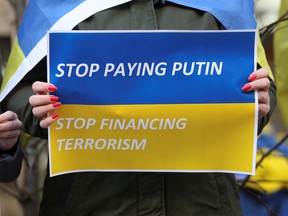 A demonstrator holds a sign during a rally in support of Ukraine in Brussels, Belgium. Photo by REUTERS/Yves Herman
Russia's invasion of Ukraine has sparked unprecedented economic and financial retaliation from western nations which are piling on sanctions in what France has called "all-out economic and financial war."
But the conflict will have consequences for the whole world as it cuts off crucial energy and crop supplies, disrupts businesses and upsets financial markets, already under stress as central banks tighten policy.
There is a lot going on out there so check here for the latest news on how the conflict is affecting markets, businesses and the economy.
The United Nations is warning the Russian invasion of Ukraine could cause the global tally of undernourished populations to spike by as many as 13 million people next year.
Article content
"It is still unclear whether other exporters would be able to fill this gap," he said. "Wheat inventories are already running low in Canada, and exports from the United States, Argentina and other countries are likely to be limited as government will try to ensure domestic supply."
The world's top wheat importers — including Egypt, Turkey and Iran — would be forced to look elsewhere to replace Russian and Ukrainian products, driving up the price and making it even harder for developing countries to secure shipments. Some of the countries most dependent on Ukrainian and Russian grains are already facing food insecurity, including Yemen and Libya, according to the FAO.
FAO simulations suggest that a prolonged disruption to the region's food production would increase the number of undernourished people by 8 to 13 million in 2022/23, "with the most pronounced increases taking place in Asia-Pacific, followed by sub-Saharan Africa, and the Near East and North Africa," according to [http://Before enacting any measures to secure food supply, governments must consider their potential effects on international markets]an extensive report released by the FAO on Friday.