'Very, very concerning': Grain shippers fear railroads won't be able to contend with bumper harvest
One of the most anticipated harvests in memory is only a few weeks old, and grain exporters say they're already seeing signs that Canada's railroads won't be able to keep up with a bumper crop expected across the Prairies this fall.
Buyers and traders anticipate a major injection of grain, which would help tamp down food inflation and stabilize a global food system that has been reeling from drought and the war in Ukraine. But Canada's top grain companies are nervous they won't be able to get shipments to port as quickly as they want in the coming months, judging from a stream of excuses now coming from the railroads, according to the grain industry's main lobby.
Article content
CP said in a statement that it was dealing with an 80-per-cent increase in grain shipments over the prior week. CN, however, had a 98 per cent fulfillment rate.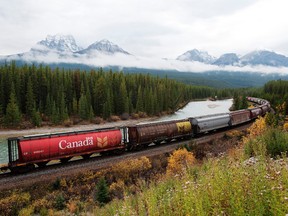 The Western Grain Elevator Association, a lobby group that represents the largest grain companies including Cargill Ltd., G3 Canada Ltd. and Viterra Canada Inc., acknowledged that a one-week dip in fulfillment rates isn't cause for concern on its own. The more worrying signal is what the railroads themselves are saying, according to WGEA executive director Wade Sobkowich.
Sobkowich was concerned with CN's annual grain plan, a federally mandated document that shows the railroad plans to move 24.5 to 27 million tonnes of grain in the 2022-23 crop year, which began on Aug. 1 — well above the roughly 18 million tonnes  shipped in the previous year following last summer's extreme drought in the Prairies.