'We had a deal': U.S. dairy farmers accuse Canada of playing games in cheese dispute
American farmers 'are sick and tired of Canada's game playing on dairy market access'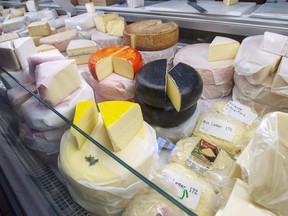 A selection of artisanal cheese at the production facility of Fromagerie Fritz Kaiser in Noyan, Que. Photo by THE CANADIAN PRESS/Ryan Remiorz files
U.S. dairy farmers are pushing back against Canada's latest attempt to resolve a long-running dispute over milk and cheese imports, accusing trade officials of playing games and flouting treaty obligations.
Canada was forced to change the way it manages dairy imports after an international panel ruled Canada wasn't making good on its promise to open up more market access under the U.S.-Mexico-Canada Agreement (USCMA), which replaced the North American Free Trade Agreement in 2020. Last week, Canada proposed a new import allocation system in an effort to address the panel's concerns. But United States producers and exporters say the proposal just swaps one protectionist policy for another.
"Enough is enough," Jim Mulhern, CEO of the Arlington, Va.-based National Milk Producers Federation, said in a statement, adding that American farmers "are sick and tired of Canada's game playing on dairy market access."
Article content
Late last year, a dispute-settlement panel — the first of its kind under USMCA — found Canada's TRQ allocation was in violation of the treaty and needed to change. Canada is now proposing a new system that would offer more quota access to distributors, rather than just processors. In the lucrative cheese category, for example, processors used to receive 85 per cent of the TRQs. Under the proposed new rules, 100 per cent of the cheese TRQs would be "allocated to processors and distributors" on the basis of market share.
Why not simply open it up to anyone who wants to buy U.S. cheese?

Nicolas Lamp
Nicolas Lamp, a former dispute settlement lawyer at the World Trade Organization who now teaches trade law at Queen's University, said the proposal appears to still cut out retailers and restaurants, both of which represent a major opportunity for U.S. cheesemakers.