What your fruit has been through: A green grape's journey through a global supply chain on edge
To fully grasp the current crisis in the flow of goods, you've got to watch a box of something struggle its way through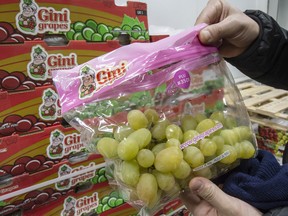 Green grapes from Peru at the Ontario Food Terminal. Photo by Peter J. Thompson/National Post
A load of Peruvian green grapes arrived in west-end Toronto in the afternoon. The truck backed up to a cold storage facility off the highway and a team of inspectors collected its samples and began its tests.
The inspectors, employed by the pre-eminent Canadian grape importer, North American Produce Buyers Ltd., checked for scars, splits and shrivelling. They looked for straggly bunches, brown stems and those loose grapes that fall to the bottom of the bag — a defect known in the industry as "shatter." They squeezed juice into a machine that checks sugar content, and used a set of metal sizing rings to determine whether the grapes were extra large, as promised, which requires a diameter of at least 14/16ths of an inch for this variety.
For the grapes themselves, the stakes are incredibly high. In the international fruit trade, bad grapes mean insurance claims and legal disputes. But more importantly, the tests determine whether the grapes will do what they were grown to do: Feed people in Canada, and other cold places.
Article content
But if you focus too closely on trucking, you miss the rest of the mess. The current crisis in the worldwide flow of goods is much more than one controversy or chokepoint, and to fully grasp it, you've got to watch a box of something struggle its way through.
(Click here to see graphic below at full size.)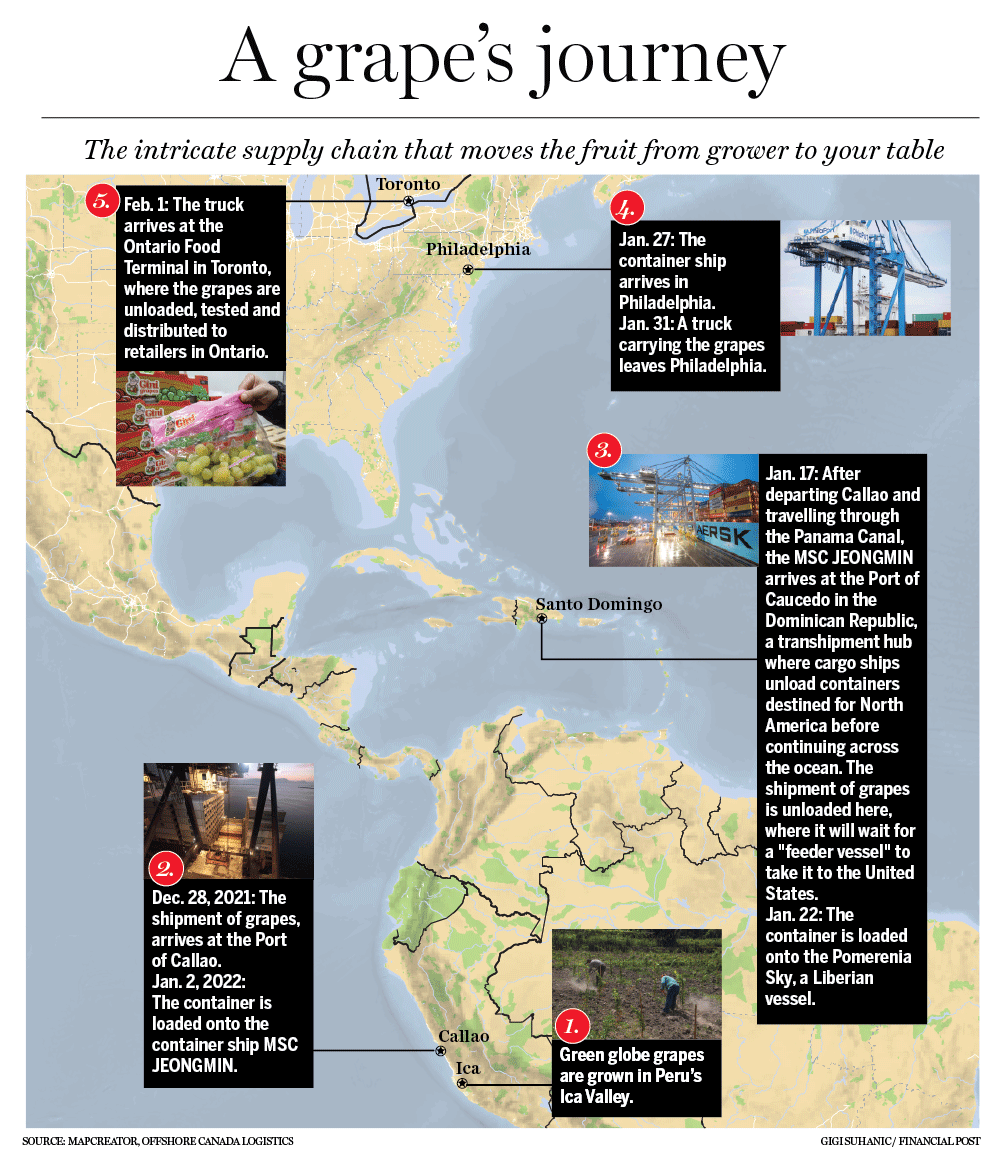 Dec. 21, 2021: Our grapes are packed
Pallet E21A00589 weighed 738 kilograms, which is roughly the same as a racehorse jockeyed by a large black bear. It was stacked with 90 cases of IGF TEN  — a breed of seedless, green table grapes trademarked under the name Sweet Globe. International Fruit Genetics, the California breeding company that engineered the Sweet Globes, promises its creations will be thin-skinned and "delightfully crunchy." The kind that snap when you bite them.