Why organization tools like Microsoft Excel make remote work possible
Maximizing your output and efficiency using pivotal programs like Excel is key to thriving as a business in the digital age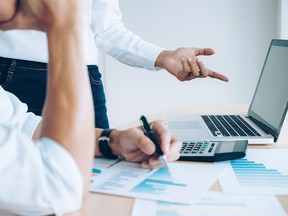 Photo by StackCommerce
This article was created by StackCommerce. Postmedia may earn an affiliate commission from purchases made through our links on this page.
Working with others without the communal collaboration space of an office was unthinkable before the internet. And since the internet has been around, working in person has remained the norm mainly because we've needed to build masterful organization tools , systems and comfort with the connectivity online work gives us. And without question, the pandemic accelerated that process exponentially.
Article content
Making sure your team is equipped with tools that are easy to collaborate with remotely is a great place to start. Tried and true suites of office tools like Microsoft Office have been praised by countless companies for ease of use and compatibility between software. If you want to get more specific, an argument can be made that of all those organization tools, spreadsheets are the most versatile and valuable.
The case for spreadsheets
If you and your colleagues want to utilize spreadsheets to their fullest, the Complete Excel Bundle: Startup Toolbox will help. It features 11 courses on the foundations of Excel as well as more advanced features like optimization, factor analysis, building dashboards, and utilizing Excel's vast collection of formulas.
Available for $50 , all 26 hours of content are led by a range of experienced instructors including Kyle Pew , a Microsoft Certified Trainer and a certified Microsoft Office Master Instructor.
Prices subject to change.