Why you shouldn't wait until April 30 to file your 2021 taxes
Get them prepared early and with the guidance of professionals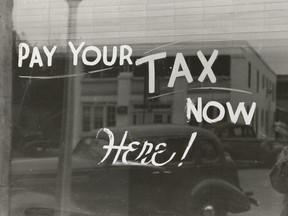 Photo by The New York Public Library /Unsplash
This article was created by StackCommerce. Postmedia may earn an affiliate commission from purchases made through our links on this page.
A new calendar year is upon us, and the reality that last year's taxes need to be paid is something most of us will try and ignore until the April 30 deadline. And we're prone to procrastinate because doing taxes can feel overwhelming and stressful.
The ironic thing is, the further we let our instincts push off the arduous civic task, the more stressful getting them done in time becomes. So, at the risk of sounding like a boring parent, the trick is getting out ahead of it and doing them early.
Article content
If you're wondering how to strike that middle ground of absorbing knowledge from a tax expert or CPA without paying them to do it for you — it exists in the wonderful world of e-learning.
Your guide to getting taxes done on time for less
The 2022 Complete Tax Preparation Bundle is on sale for just $37.99 for a limited time. With it, you will get 11 courses rated as high as 5 stars by students and over 600 lessons on how to get ahead of your taxes as an individual, family and business. From breakdowns on how to create financial reports in Microsoft Excel to lessons on how to enter tax data for an S corporation, the answers to your filing questions can be found here.
Prices subject to change.