You've got questions about the CRA's principal residence exemption, we've got answers
Jamie Golombek: CRA's recent crackdown on perceived abuse of the PRE has sparked a barrage of reader interest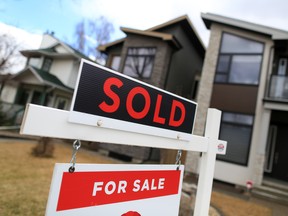 The CRA recently sent out educational letters to individuals "who may have applied the PRE in error," giving them a chance to correct or amend their prior years' returns if it turns out they incorrectly claimed the PRE.  Photo by Gavin Young/Postmedia files
Canada Revenue Agency's recent crackdown on perceived abuse of the principal residence exemption (PRE) has sparked a barrage of reader interest, many posing additional questions concerning various aspects of the exemption.
To recap, the CRA recently sent out educational letters to individuals "who may have applied the PRE in error," giving them a chance to correct or amend their prior years' returns if it turns out they incorrectly claimed the PRE. Here's a sample of your questions (edited for brevity and clarity) and my responses. 
Q: We recently sold our home and plan to purchase our daughter/son-in-law's condo so they can purchase a townhome. At that time, we will occupy their condo and live in it as our principal residence. Our plan is to live there for about six months, at which time our new townhome (currently under construction) will be ready to move into. Do we have to live in the condo for one full year before we can resell it without tax implications? We were told by our accountant that if we bought their condo and it is our principal residence, we can sell it whenever we choose without tax issues.
Article content
JG: Given that the vacant lot has its own tax bill and legal address, and can be sold separately from the lot upon which your house is located, it's unlikely its sale would qualify for the PRE. Even if both lots were ultimately sold together, you would run up against the "half-hectare rule." Under the Income Tax Act, the definition of "principal residence" limits the amount of land that qualifies for the exemption to half a hectare (approximately 54,000 square feet) unless the taxpayer can show that the excess land was necessary for the use and enjoyment of the housing unit. 
This half-hectare rule was the subject of a 2018 Tax Court case in which a taxpayer purchased four adjacent pieces of land in rural Quebec, in four separate real estate transactions, amassing a total of approximately 4.17 acres. Her housing unit was located on the land acquired in the first transaction. The other three pieces of land were ultimately merged to form a second lot, on which a pool, barn, garage, septic field and sugar shack were built.