2022 Preview: 10 coolest EVs and plug-in hybrids coming next year
It should come as no surprise, but 2022 is set to be a big year for plug-in hybrids and fully electric vehicles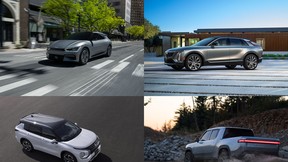 Next year will be full of great new electric and plug-in electric vehicles, thanks to the new regulations , greater availability of charging stations and improved performance and range .
It feels like everyone is going all-in to the electrification trend, with many automakers investing billions of dollars into green vehicles. Long-range EVs are not packing a premium anymore with mainstream, mass-market brands offering some competitive range and performance. Let's take a closer look at what we're most excited to drive in the next 12 months.
That means the two cars offer rear-wheel- and all-wheel-drive arrangements that can be paired with a 58-kWh or 77.4-kWh battery. The EV6 will return a maximum of 498 km in the big battery, rear-wheel-drive model, while the similarly equipped Ioniq 5 will manage 487 km. Both of these Korean EVs seem impressive, and we can't wait to put them to the test.
That BMW iX is set to get some stiff competition from the connoisseurs of American luxury over at General Motors. The Cadillac Lyriq has been a long time coming, first getting mentioned in 2020, but that means there has been plenty of time to perfect all the little details that make a luxury car so impressive. That's important, as the specs sound similar to all the other electric crossovers coming out — 100-kWh battery, over 480 km of range, 190-kW DC Fast-Charging and 340 horsepower.