5 Reasons the 2022 M240i xDrive is my favourite BMW
This two-door boasts the optimal power-to-license ratio for a street-going sportster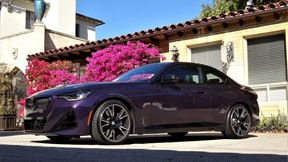 The 2022 BMW M240i Photo by Nadine Filion
The 1986 M3 — the vehicle that started all this devotion to BMW's red, blue and violet badging — wasn't all that fast. By today's standards, its (just under) seven second sprint to 100 kilometres an hour would be considered dismally slow, so much so that a Toyota hybrid — a hybrid sport cute, no less — would leave it for dead off the line.
It wasn't especially powerful either. Sporting neither turbocharger nor all that many pistons — the original M3, believe it or not, had but four — it boasted but 192 horsepower. I don't think you'll need to reach for Car and Driver's Buyer's Guide to figure out that that ain't much. Hell, a Hyundai Kona — the EV version, no less — has more. By all contemporary standards of sportiness, then, the original M3 was a shrinking violet. And yet it is routinely considered the finest sports car ever produced from the brand — that would be BMW's M — considered, well, the greatest purveyor of sports cars extent.
More germane to the question at hand is that the M240 is the closest current M's come to emulating that lightness of spirit and, for that, it is my favourite BMW. Here are the five reasons why.
The 2022 M240i's wheelbase is almost exactly the same as the E46, the only M3 worthy of challenging the original E30 for true M-ness. That tightness of wheelbase translates into the sharpest steering car in BMW's lineup. Sure, an M3, with stiffer suspension and stickier rubber, will power through a corner quicker, but for sheer steering delight, this is as close as one can get to that old Ultimate Driving Machine litheness in a new BMW.
On Dave's special-secret-southern-California test road — suitably twisted and always deserted — the M240 was nothing short of balletic, slotting into hairpins as if on tracks, turning so precisely you would think it was in, well, slots. The front grips, the rear twitches and the whole thing rails around as if it weighs about a 1,000 kilograms, which is kinda funny because the M240i—
Short of wheelbase the M240i may be, but it's hardly a lightweight. In fact, a quick perusal of spec sheets reveals that it's actually 19 kilograms heavier than the current M4, a vehicle, while certainly much fleeter of foot, is not nearly so agile. Nor is it because the its weight balance is any better, the M240i sharing the same 53.1/46.9 front-to-rear weight distribution — so much for BMW's oft-repeated boast of perfect 50/50 weight balance — as the M3 Competition. I suppose it could be that the "real" M cars' wider front rubber could slow steering a twitch, but I don't think that's it at all.
So, for those not believing the old shorter is better maxim, please read all praise being heaped on the new M240i from buff books — Car and Driver and Motor Trend to name but a few — lauding the new 2 Series for its "old time" lightness and flingability and understand that it's largely because its wheelbase is some 115 millimetres shorter than the M4 and, thanks to its reduced overhangs, it's also some 235-mm shorter, overall.
Compared with the monsters that power that power the M3 and M4, the M240's turbocharged 3.0-litre inline six seems almost tame. On the other hand, only the truly jaded will find then big six's 382 horsepower and 369 pounds-feet of torque wanting, the combination being good enough to power the almost two ton 2 to 100 kilometres an hour in just an smidge over four seconds.