5 Things I learned driving the 2022 BMW X4 M40i
The best of the M-badged X4s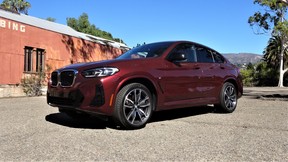 2022 BMW X4 M40i Photo by Nadine Filion
A long time ago, before the world was completely jaded, rubes used to pirate black market M badges and affix them to otherwise nondescript BMW 325s and 540s. The ruse, of course, didn't pass muster amongst aficionados because the recipient beater almost always had stock wheels, the tires were family sedan-ish 60 series and, hell, sometimes there was even but a single exhaust tip back there. The shallowest of subterfuge it may have been, but one assumes it must have fooled someone. Even the most gullible halfwit will eventually desist in a hair-brained scheme if absolutely no one falls for the deceit.
Of course, like so many things, what was once considered crude is now smart business, BMW's M badge now adorning everything from steering wheels to key fobs. Indeed, it's hard these days to know what's a genuine performance accessory and what's just a craven cash grab. Even M-badge cars come in varying degrees of genuine performance enhancement. Full-boat M cars, with the most monstrous of motors BMW can produce, are always the most simply badged. An M5, for instance, is a full-zoot, turbocharged-to-the-hilt 617 horsepower monster. Ditto for its Sport Activity Vehicle sibling in performance, the X5M. Every scintilla of go-fast turbocharging technology BMW posses goes into a full M car, the only thing more radical perhaps is if the company adds yet more urge to the whole sheboodle — as in M5 CS — at which point you're basically looking at a track car with licence plates.
Then there's the subject of this test, an M40i X4. Essentially, a blend of standard engine — in this case, the 3.0-litre six with an entirely estimable 382 horsepower — with some passable sporting enhancements, it is the M badge without the punishing fuel economy or the buckboard ride. Throw in a few styling add-ons, say a fancy steering wheel and some aerodynamic bits, all of course with elaborate badging and you still have a car the envy of all your fellow suburbanites.
On the other hand, it's not a "real" M car. It's not bred for the racetrack. It doesn't ride like a GT3 racer somehow escaped from Le Mans. And, truth be told, it won't even be the best-handling sports brute on the street. Again, despite the multiplicity of its badging, it's not a real M car.
If that sounds overly harsh, the fact remains that…
According to the M Division, each hue in its tri-color badging has its own distinct meaning. Blue, for instance, stands for the mainstream BMW brand while red represents its commitment to motorsports and violet, well, that's the unique combination of the two the company demands for its M-badged cars.
If indeed that "violet" compromise be the heart of BMW M-ness for the company's SUVs, I'm a fan. More to the point, I'm more a fan of the mid-range M versions of its SAVs than the full-zoot competition models. Frankly, fully M'ed BMW SAVs — the X4 and X5Ms and such — simply don't offer the balance I'm looking for in a vehicle that will never, ever see a checkered flag. Filling-rattling suspension makes some sense on performance sedan or coupe that might see some racetrack duty, but it's largely wasted on anything that bears even a passing resemblance to a Chevy Blazer. To make this distinction more specific, if I were to be looking to buy an M-badged sedan, I'd always opt for the full package, i.e. an M3, M4 or an M5. They might indeed see the inside of a pit lane so I'd want all the power, brakes, and suspension M can muster.
On the other hand, if I were shopping the company's SAVs, I'd always opt for the M40i or M50i of the X3, X4, or X5. Only a fool would try "tracking" one of these beasts and the compromises necessary to get decent handling our of a sport brute renders them obnoxious for regular, everyday driving. In other words, the X4 M40i comports itself well enough for anything any North American road can throw at it. Firmer compression damping and/or stiffer anti-roll bars is wasted on anything so high off the ground.