7 Years ago I bought my dream car—here's why I just sold it
I'd wanted a 1970 Corvette since I was eight years old, but actually owning one made me totally rethink my life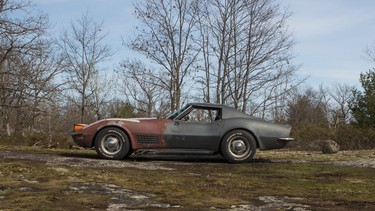 Clayton Seams' own C3 Corvette, which our internet commenters once called the worst Corvette generation. Photo by Clayton Seams /Driving
When I was the malleable age of eight years old, I was gifted a weighty book which had a picture of every single American car ever produced from 1900 to 2000. As the dog-eared pages will testify, I spent hours looking at those chrome machines and imagining what it would be like to drive one. From those pages, a favourite emerged: a yellow 1970 Corvette, sitting proud on a dusty highway in the California desert. And I vowed then that I would have one.
To me, the 1970 Corvette existed on a higher plane than any other car. I had the engine outputs and order codes memorized, chapter and verse, and could tell you the names of all the factory colours, from Tuxedo Black to Can Am White.
And yesterday I sold it.
Of course it still lacked little details like windshield wipers, a horn, turn signals, mufflers, and any semblance of an interior, but who cared!? I went ahead and drove it like that for two years, and got a chance to meet many members of Ontario's hard-working police force who were quite amused with my contraption. One simply told me to "make better life choices." I should have listened.
In summer of 2019, I embarked on a 700-mile (1,125-km) road trip from Toronto to the northern edge of Kentucky through the mountainous spine of Appalachia. I had a perfectly working normal vehicle I could have taken, but instead I chose the Corvette. The heater core exploded while waiting in line for U.S. customs; it bankrupted me at every gas pump; the heat in the footwell melted the glue on my shoes; and I gained a permanent ringing in my ears from listening to the side pipes for hours on end. I lost weight from all the sweating, and my relationship with my co-pilot was strained at best. I was no longer having fun.