9 Things I learned riding the 2022 BMW R18 Transcontinental
This bagger stands out as one of BMW's best, as I found out firsthand just how luxurious, powerful, and oh, so very heavy it is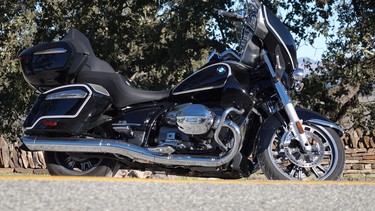 2022 BMW R18 Transcontinental Photo by David Booth
With a finish the equal of even the CVO versions of Harley's iconic Electra Glide, the R18 Transcontinental extends BMW's reputation for exceptional fit and quality. The chrome surrounding the instrument cluster is exquisite. The saddlebags and topcase are the best BMW sells. Even the master cylinders — front brake and clutch both — are works of art elevating the "Berlin Built" moniker to the equivalent of a custom-builder's logo. It's truly impressive stuff and proof that BMW is serious about this bagger segment.
A low centre of gravity disguises that a bit once rolling, but just lifting the big beast off the centrestand is a lot of work. I do some serious squats. Twice a week even. I also run 40 or 50 flights of stairs a week, all so my quadriceps are equal to the routines any 65-year-old-going-on-16 thinks they should be able to do.
No, it's not a powerhouse. Officially there's 90 horsepower and 116 pounds-feet of torque on hand. In reality, there's about 80 horsepower at the rear wheel, along with 110 of those torque things. Not exactly overly generous, considering that the thing weighs about as much as a Mitsubishi Mirage.