B.C. cyclist hit by car gets $3,752 bill for car's damage
"You are responsible for any resulting damage or injury sustained by our insured … you must pay this amount to ICBC," letter reads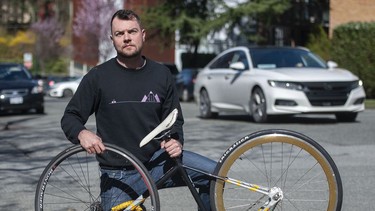 Ben Bolliger holds his broken bicycle on Wednesday at Willow Street and West 7th Avenue in Vancouver, where he was hit by a young driver behind the wheel of a Mercedes last July. Photo by Jason Payne /Postmedia
Ben Bolliger was shocked to open the mail last week and see a bill from ICBC for $3,752.01. The amount is what ICBC hopes to get back after paying to fix a windshield and hood damaged when a driver crashed into Bolliger while he was on his bicycle last summer.
The driver had run a stop sign while Bolliger was crossing the intersection at West 7th Avenue and Willow Street in Vancouver, the cyclist said.
Bolliger, a project manager in public health, was working from his Fairview Slopes home office because of COVID-19 and had been on his way to grab lunch on Granville Island.
Say, for example, a pedestrian jumps out without warning in front of a moving car and causes damage to the vehicle. The pedestrian would be responsible for the physical damage to the vehicle under no-fault.
"You were driving an uninsured vehicle at the time of the loss. This means you do not have insurance coverage for this loss and must repay the cost of our insured's claim."