B.C. woman ticketed for distracted driving in 2-hour COVID testing lineup
Holding the phone on speaker wasn't cutting it for the officer on duty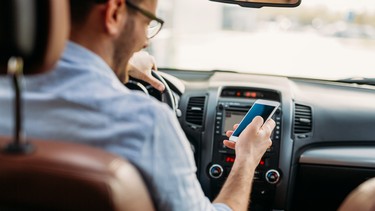 Man looking at mobile phone while driving a car. Photo by Getty
Police patrolling the vehicle lineup at a Burnaby, B.C. COVID-19 testing centre over the holidays are drawing public attention for a ticket they gave to a woman who was using her phone while queueing in her car. 
According to a report from Daily Hive, an officer spotted Kaytlin Quinn holding her phone in her hand as she spoke to her brother on speakerphone during the 2.5-hour wait for the PCR test on Dec 22. She was removed from the lineup, ticketed, and allowed to return to her place in line. 
Lawyer Kyla Lee is representing Quinn pro bono, saying that the $300 ticket and potential insurance rate increase that could come with it was a disappointing decision by the officer.  
"It just seemed ridiculous…like catching fish in a barrel," Quinn told the Vancouver publication. "On one hand, I understand you're doing your job. And on the other hand, it just seems like it's taking advantage of a situation."
A representative of the Burnaby RCMP says officers have been keeping watch over the busy Willingdon and Canada Way testing centre. Where there's difficulty on the roads, even if it's slow-moving, that's where they'll be.