Before the Deerfoot Trail: Calgary was caught in 'traffic trap' 7 decades ago
Historic coverage a window into the planning considerations of a growing city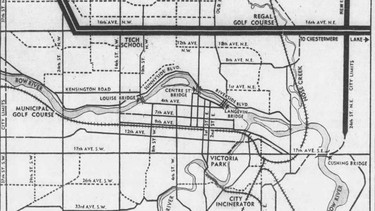 The major thoroughfare plan for Calgary seven decades ago.
In 1952, Calgary's growth was on an upswing: 151,000 people lived here — 10,000 more than the previous year — and traffic was getting worse every day. So, city hall decided it was time for a new major thoroughfare plan. Pictured below is the map that appeared on the front page of the Calgary Herald 70 years ago, showing how the main roads that cut through the city were going to operate.
City limits were much more modest, of course. The city was bordered on the south side by 50th Avenue South and on the north by 40th Avenue North.
Roads such as Deerfoot Trail were still non-existent, but interestingly city planners were already suggesting a major road be planned in that general area. Their idea, however, was to build a "New Edmonton Trail," considerably east of where the current Edmonton Trail stood.