Car Review: 2022 Volkswagen Golf R
The 2022 VW Golf R is precise, balanced, and damn, it is blazingly quick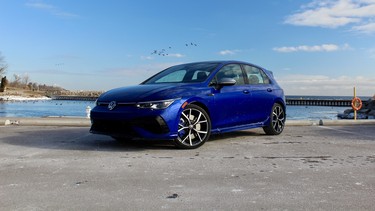 2022 Volkswagen Golf R Photo by Peter Bleakney
My week behind the wheel of the 2022 Volkswagen Golf R had me feeling particularly patriotic. As it turns out, we polite and pragmatic Canadians have a peculiar penchant for potent practicality. Canada is the #4 market in the world for Golf R — not per capita but actual raw volume. So while you'd think the our national sentiment might be something like, "Well jeez, eh, I'm not paying 50 grand for a friggin' Golf," in reality it's more like "Hmmm, this understated all-wheel-drive hatchback goes like hell, sticks to the road like maple syrup, and will carry everything I need for a weekend at the cottage."
The good news for new R customers (and perhaps not so good for current R owners) is the all-new Mk8 Golf R is better than the outgoing car. Volkswagen's uber-Golf trades some of its stoic, Audi-in-disguise, I-do-everything-so-well-I'm-almost-boring hot hatch for a bit more playful hooliganism. V-Dub has cranked up the fun factor and this R wants to rock. And wiggle its arse. And do donuts.
I concur. The new Drift Mode had me in hysterics while performing donuts in a gravel lot. But more importantly, this ability signals the R's new-found dynamic attitude. And it really shows its stuff when selecting Nürburgring, a sub-setting of Race Mode.
Spring and anti-roll bar rates increase by 10 per cent, there's more negative camber dialed in on the front wheels and steering gets recalibrated for better feedback. Visual clues include door sill extensions, standard 19-inch "Estoril" alloys, blue brake calipers with R logo, mirror caps in matt chrome, two-piece spoiler, gloss black diffuser, and twin dual exhausts. Brakes are bigger and aero is improved, with a reduction in both front and rear lift at speed.
I'm also happy to report that the Golf R no longer suffers with that piped-in Subaru-esque moan. It now makes a meaningful snarl as the revs rise, and when in Race modes, it delights with real pops and barks on lift off.