Chevrolet's Corvette sees small price bump for 2023
The range is now topped by a 70th Anniversary Edition, which adds $7,995 to your sticker price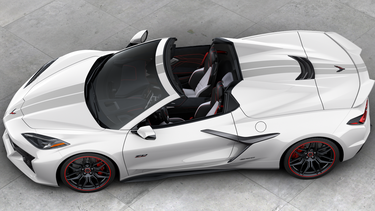 A 70th Anniversary Edition 2023 Chevrolet Corvette Z06 convertible Photo by Chevrolet
Chevrolet's Corvette will see a small price bump for the 2023 model year in Canada, as well as a few added features; and a range-topping 70th anniversary trim.
While the sports car's 1LT base spec started at $70,998 this year, when the order books open March 24, you'll need to put down at least $71,998 (before $2,000 in dealer fees). Pricing on the higher 2LT and 3LT trims has not yet been revealed, and we also don't have info on the convertibles' cost. For MY2022, a 2LT and 3LT come with an MSRP of $80,998 and $86,998, respectively; while the 1LT ragtop is $79,998.
Don't worry—Chevrolet will still throw in a few small 70th-anniversary callouts on your 'Vette's interior even if you don't opt for the package.