Collector Classics: 1929 Dodge DA Roadster
One of America's 12 most beautiful hot rod roadsters was built in a Vancouver suburb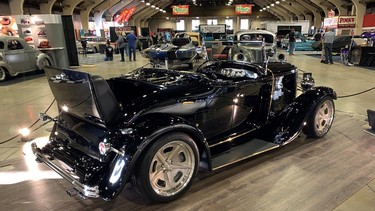 The 1929 Dodge DA in competition for America's Most Beautiful Roadster at the Grand National Roadster Show. Photo by Jellybean Autocrafters
In the custom car world, the Grand National Roadster Show is where the best drivable art in the world is showcased and judged.  More than 40,000 people attend the 72nd annual event at the Fairplex in Pomona, California where 1,000 hot rods and customs along with muscle and race cars were on display during the last week of January.
Only a dozen pre-1937 open cars are selected for the America's Most Beautiful Roadster (AMBR) competition, and when the winner is selected, the remaining 11 cars all receive second place awards.  These unique designs based on traditional hot rods are recognized as the world's best examples of this art form evolution and the builder's status is greatly elevated.
The creation started with a poorly restored car that proved to have many body issues after disassembly. Since there are no aftermarket parts available for a car this rare, all panels had to be hand-formed, including an all-steel floor to replace the original wood. Many body modifications were done to make the car look sleek, but the original look was retained, including a special 'golf door' on the right side for bag and club storage in the Great Gatsby era.
Finding speed equipment for an extremely rare 70-year-old Canadian Plymouth engine coupled with the decision to use a modern fuel injection system proved to be major challenges. Ewald says locating one of only 15 aluminum vintage EDGY high-compression engine heads made was tantamount to winning the lottery. Like winning the lottery for a second time was locating the only 1938-era Tattersfield aluminum intake manifold designed for the use of dual carburetors on a vintage Chrysler-built six-cylinder engine. Because this is only a 250 cubic inch displacement engine, there is no off-the-shelf dual fuel injection conversions available. So custom throttle bodies were hand cast and machined to look like carburetors by a company called Damn Good Motors.
To win competitions, the stance of a car must be perfect. And having the right wheels is an essential element.