Corner Wrench: Fuel-saving hacks don't always pay off
Tonneaus and cold intakes aren't all they're made out to be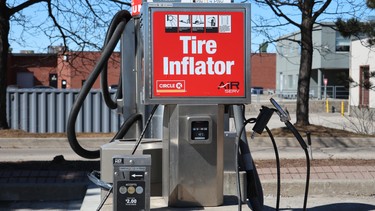 Gas station tire pump Photo by Jil McIntosh
With prices at the pumps hitting the stratosphere lately, it's no wonder drivers are pulling their hair out over the situation. Unfortunately, moving to public transit, ride sharing, or car-pooling isn't always an option, nor is trading in the guzzler for something more fuel-efficient. But can you make a V8 equipped pickup or SUV get to where you need to go on less fuel? It may not be as easy as you've heard.
First, leave the gimmicks on the shelf. While most of these snake-oil cures have vanished from store shelves, a few may still float in online spam. Think things like platinum (or any of your favourite precious metals) fuel additives, or the magic swirl air-intake devices that never did anything except lighten the wallets of some gullible consumers.
Likewise, cold-air intake systems are readily available from different manufacturers, relatively inexpensive, easy to install, and almost always promise improved fuel economy. Cold-air systems work by supplying cooler air in more volume than traditional factory systems. But if your ride's current air inlet system is already located at the outer edges of the engine bay to keep it from heating up, a cold-air system might not be much of an improvement. The increased volume can bring some minor savings, but it also brings noticeable power boosts when the throttle is opened up. This rewards driving enthusiasts with a little more punch, but fuel economy will drop when they enjoy it too much.
Fortunately there are a few real tips that many vehicle owners have used for years, and the results may surprise you.