Drivers in big vehicles more likely to hit, kill pedestrians: IIHS
Visibility may be a key factor, says study, hindered by trucks' and SUVs' thicker A-pillars and taller ride height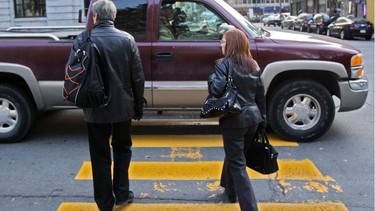 Pedestrians wait for a pick-up truck that failed to stop to let them cross the street at the crosswalk on Peel St. south of St. Catherine St. in Montreal, Monday October 31, 2011. Photo by John Mahoney /Montreal Gazette
Drivers in SUVs, pickup trucks, and other large vehicles are far more likely to hit pedestrians when they are making turns versus those in smaller vehicles, according to a new study by the U.S. Insurance Institute for Highway Safety (IIHS). The researchers suggest that these bigger vehicles "may not afford drivers as clear a view of people crossing a road."
Pedestrian crash deaths in the U.S. reached a low point in 2009 but have increased nearly every year since then. In 2020, the last year with data, more than 6,500 pedestrians were killed, an increase of 59 per cent over 2009, and another 54,700 pedestrians were injured in crashes. The IIHS suggests that one "suspected factor" is the increasing prevalence of larger vehicles on the road.
The research looked at the most common types of crashes involving a single vehicle and a single pedestrian at or near intersections and other locations. Crashes involving a vehicle making a left turn, versus no turn, were about twice as high for SUVs, almost three times as high for vans and minivans, and nearly four times as high with pickup trucks, as they were with cars.
The IIHS suggests that vehicle design may play a role. According to senior transportation engineer Wen Hu, "It's possible that the size, shape or location or the A-pillars that support the roof on either side of the windshield could make it harder for drivers of these larger vehicles to see crossing pedestrians when they are turning."
IIHS notes that more research is needed to understand how visibility factors into these types of crashes. It conducted earlier studies that showed the A-pillars can create blind spots that can prevent drivers from seeing pedestrians. It gets worse as the pillars get wider, and larger vehicles need stronger pillars for rollover protection, although IIHS said it hasn't yet assessed A-pillar design by vehicle type. It's also suggested that other large-vehicle designs, including their height and long front ends, could also create visibility issues for drivers when pedestrians are present.