Electric vehicle sales are booming, but can B.C. keep up?
"There's basically more demand than there is supply in terms of charging solutions," said Dr. Werner Antweiler.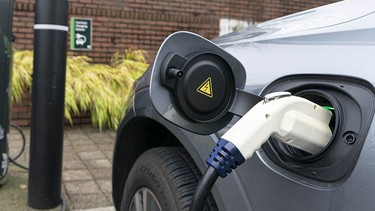 Electric vehicles are an increasingly popular choice as the price of gas goes through the roof. Photo by Richard Lam /PNG
As gas prices spike across the country, restrictions on home-charging options have become a bottleneck holding up electric vehicle adoption, say experts.
"The real issue right now is home-charging," said Harry Constantine, president of the Vancouver Electric Vehicle Association.
A recent survey by Clean Energy Canada found 80 per cent of Canadians were open to buying an electric car before the recent spike in gas prices.
BCIT is also experimenting with using street light infrastructure as a source of power for electric vehicles.