EV Review: 2022 Kia EV6 GT-Line
Winter testing Kia's new electric crossover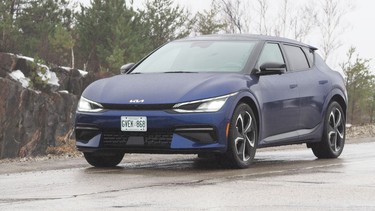 2022 Kia EV6 GT-Line Photo by Justin Pritchard
Recently, I spent 1,600 kilometres driving the all-new, all-electric Kia EV6 crossover in sub-zero conditions typical of late winter in Northern Ontario. While filming and shooting my way through several assignments with plenty of highway, winter and backroads driving, I've collected some real-world impressions that should prove useful for perspective shoppers in northern climates, considering this model for their next EV.
Key among these impressions? Through all of that time in a Long Range GT-Line AWD, the Kia EV6 is a heck of a thing to drive in the snow. But more on that in a bit — for now, let's get you up to speed.
Drivers take it in from a cabin that looks great, but does leave some improvements to be desired.
There's no missing the giant instrument and infotainment display. Both the Mustang Mach-E and Volkswagen ID.4 use instrument clusters scarcely larger than a big smartphone, but in the EV6, wide-screen digital instruments with great graphics flow into the central infotainment display. This looks less minimal and more high-end: not far off from what you'd find in a big-dollar Cadillac Escalade or Mercedes E-Class. Hop from a Mach-E or ID.4 into an EV6, and the added presence of high-quality display surfaces ahead of the driver adds substantially to the look and richness of the cabin. 
Beneath the central infotainment touch-screen is the EV6's central control surface. A two-in-one deal, drivers click a button to adjust climate controls, and click again to adjust stereo controls. The backlit buttons and dials change context depending on the currently-selected mode, allowing one control surface to control two separate systems. It's a super techy touch that the most tech-savvy drivers will likely appreciate, though the added step of toggling the menu context may not be a hit with all drivers. It's just a touch more complicated than necessary.