First Drive: 2022 Toyota Mirai
The latest version of Toyota's fuel-cell segment-leader is plenty practical, but may lack emotional appeal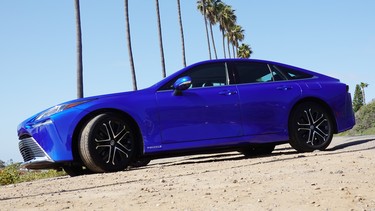 The 2022 Toyota Mirai FCEV Photo by David Booth
It really is a measure of how completely battery-powered electrics dominate the zero-emissions discussion that this car, Toyota's second-generation fuel cell-powered Mirai, passes by so completely unnoticed. Even Toyota, one of the more forceful proponents of hydrogen propulsion, chose to launch this all-new version as part of the bz4x launch, the Mirai very much the second fiddle to the electric SUV's lead cellist. No matter their benefits, FCEVs seem lost in the tidal wave that are battery-powered electrics.
That's very sad, because this Mirai is very much the Tesla Model S of FCEVs. It's a fairly large car, if not quite as spacious (especially in the rear, where a hydrogen tank intrudes) as the sedan that put Tesla on the map, then at least roomier than its predecessor. Inside, the interior is impressively luxurious, totally leather-clad and replete with all the best features Toyota has to offer, an upgraded infotainment system with a large 12.3-inch touchscreen not the least of 'em.
Most importantly, though, it has range. Lots of range. As in a Tesla-topping — and Lucid-challenging — 674 kilometres. Toyota managed to squeeze an extra hydrogen tank into the chassis, and the Mirai now holds 5.6 kilograms of highly-pressurized hydrogen under its seats, and — thanks to what Jackie Birdsall, senior engineering manager of fuel cell integration, claims is "the most efficient fuel-cell stack in the world" — there's almost 650 clicks to a 'tank.' And unlike BEVs, whose rated range claims are often illusory, the Mirai seems able to deliver that long range, again all while remaining as emissions-free as anything powered by a battery.
The primary issue issue is, of course, the very same that plagued electrics at their naissance: there's no charging stations. Despite a recent push, there are barely 50 hydrogen refueling stations in the U.S. and even fewer in Canada, most of those concentrated in Vancouver and Quebec (which also corresponds to the jurisdictions on which Toyota focuses its sales activities). And since refueling stations can cost up to $4 million each, it's unlikely they're going to sprout up spontaneously.