First Drive: 2022 Volvo C40
The 2022 Volvo C40 adds stylistic flare to the XC40's sleeper status and leads Volvo's charge to become electric-only by 2030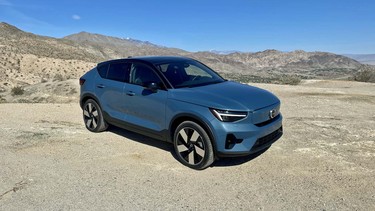 2022 Volvo C40 Photo by Graeme Fletcher
The launch of the C40 Recharge is a part of Volvo's push to become an electric vehicle leader. By 2025, the company wants 50 per cent of its global sales to be fully-electric rides with the balance being a hybrid of one stripe or another. The more ambitious plan is to make the company a pure-electric purveyor by 2030.
While the new C40 is very heavily based on the XC40, its styling is different. The raked rear roofline gives it a coupe-like profile. This does put a minor crimp in overall utility, but if you value form over function, it works — the taillight treatment is stunning.
One of the C40's key assets is the one-pedal drive. It uses pretty aggressive regenerative braking to allow the driver to control the vehicle using the accelerator pedal alone. Lifting sees it slow to a full stop where it sits without rolling back when waiting at a traffic light. If you're into one-pedal driving, you'll love this setup. Kudos to Volvo for allowing the preferred regen mode to be saved as the driver's preference. This means it doesn't have to be activated every time the C40 is driven, as it has to be in the Kia EV6.
One-pedal driving is not for everyone, so Volvo allows the driver to turn this feature off. Doing this sees it drive like a normal crossover, although the sensation is it seems to lose some of its ability to harvest waste energy and return it to the battery.