First Drive: 2023 Ferrari 296 GTB
Yes, it's a PHEV, but don't let that fool you, the Ferrari 296 GTB is also a beast — a refined 818-hp beautiful beast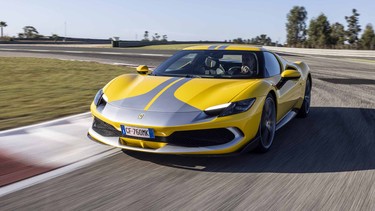 2023 Ferrari 296 GTB Photo by Ferrari
Sure, you can tell your neighbours you bought a Ferrari 296 GTB because you want to reduce your carbon footprint. It is a plug-in hybrid, after all; an electric motor kicks in to help reduce fuel consumption and emissions, and it's capable of driving up to 25 km on battery power alone.
But you know you bought it because its razor-sharp handling and frontal-lobe-flattening braking combine with 818 horsepower to bring you to near-orgasmic euphoria. Say that about a Prius Prime.
The exhaust empties into a pair of counter-rotating turbochargers, which are smaller and spin higher than previous Ferrari turbos, and capable of generating 24 per cent more boost. That added boost helps the engine pump out 654 horsepower. Normally, we could stop right there — even those with an addiction to horsepower would find that number satisfactory. But the electric motor adds another 164 horsepower, and bumps peak torque to 546 lb-ft. The combined output can propel the 296 from zero to 100 km/h in 2.9 seconds, just four-tenths off the AWD V8-powered SF90 Stradale PHEV.
The 7.45-kW battery sits low, behind the seats, helping lower the centre of gravity. The 122-kW electric motor, which is the same as in the SF90, is integrated into the rear of the engine, connected to it via an electronically controlled dry clutch. When the clutch engages, both power sources drive the rear wheels via an eight-speed dual-clutch gearbox. There are four hybrid modes — Qualify, Performance, Hybrid, and eDrive — selectable by an eManettino on the left side of the steering wheel.
Qualify mode offers the maximum available combined output, at the cost of high battery depletion. Performance mode prioritises internal combustion but helps maintain battery power at a cost of about 30 horses. Hybrid is the default mode, kicking in internal combustion only when needed to accelerate hard, or when battery power becomes too low. And eDrive allows the car to run silently and fume-free on its battery, for up to 25 kilometres, and up to 135 km/h. When in eDrive, only four of the eight speeds are used, and only in automatic mode.